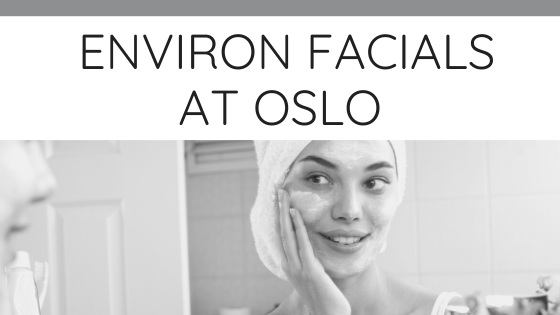 Our skin is an organ and vitamin A is the oxygen it needs in order to be healthy and function at its best. Most of us have deficient levels of vitamin A in our skin, causing the skin to malfunction which may result in premature ageing, pigmentation, acne and other conditions.
Environ works by delivering the highest levels of vitamin A into the skin to reverse photo-damage, renew skin cells and protect from damage.
Environ's advanced skin treatments combine the latest technology with the science of beauty! Environ's patented Ionzyme DF machine is the first in the world to combine low-frequency sonophoresis & pulsed iontophoresis to enhance the penetration of vitamins, peptides and super-nutrients to provide faster and more effective results. Whether you are looking to target ageing, pigmentation, acne or dehydration. There is something for everyone with Environ.
Pro tip: Book a 'pre facial consultation' with your facial to discuss your skin concerns with your therapist, ensuring you will get the best possible experience. For best results, book one treatment per week for 6 weeks but you should see results like increased brightness and hydration from your first visit!
ACTIVE VITAMIN TREATMENT
Who this is for:
Choose this facial if you want to brighten dull skin, lighten pigmentation, boost collagen and breath life into your skin!
How this Environ facial works:
This treatment uses our Ionzyme Machine to penetrate vitamins A and C into the deeper layers of the skin.
These vitamins, as well as other advanced ingredients, will brighten, plump and rejuvenate your skin. Great for events and occasions as a once-off treatment or why not book a course!
COLLAGEN BOOST TREATMENT
Who this is for:
This treatment is for you if you feel your skin is lacking in volume and needs plumping! Collagen Boost will smooth lines and plump your skin for a more youthful appearance.
How this Environ facial works:
Your therapist will use the Ionzyme Machine to penetrate a trio of collagen-boosting peptides, vitamin A and C into the deeper layers of your skin to plump and smooth visible lines. These peptides trick your skin into thinking it's losing collagen, in turn, it will then produce more.
FROWN TREATMENT
Who this is for:
Book in for a Frown Treatment if you have those pesky frown lines but you aren't ready for botox.
How this Environ facial works:
This "Notox" treatment uses three of the most advanced ingredients in skincare to relax the muscles that cause frown lines, giving a botox effect but without the needles! For best results book in for a course of 6 treatments.
HYDRABOOST TREATMENT
Who this is for:
This treatment is perfect for dry or dehydrated skin.
How this Environ facial works:
Hyaluronic acid holds 1000 times its weight in water. We use hyaluronic acid in this treatment to increase hydration and smooth fine lines, leaving you with moisturised, glowing skin!
This treatment is great on its own or as a course of 6. Speak to your therapist about what would be best for your skin.
PURIFYING TREATMENT
Who this is for:
The Purifying Treatment is great for treating acne and congested skin.
How this Environ facial works:
This is a deep cleansing and exfoliating treatment that will decongest your skin and kill the acne-causing bacteria. We will, of course, include the Ionzyme Machine as well as using advanced ingredients to leave your skin feeling brand new!
COOL PEEL TREATMENT
Who this is for:
Book a consultation to discuss whether a Cool Peel is the right choice for your skin concerns. Great for treating acne, rosacea, as well as lines and wrinkles.
How this Environ facial works:
Slow and steady wins the race with this peel as it is a gentle, low strength lactic acid peel that will tighten and smooth the skin, as well as kill bacteria and decongest acne-prone skin. Go for a course of 6 for best results.
These are the Environ treatments we have at OSLO but we also offer other brands and our therapists will customise the treatment for your skin concerns and needs.
Book your "One to one analysis" to discuss all the options you have with one of our amazing beauty therapists.
We hope to see you soon in one of our salons.
For further information on Environ products, consult their website as well.